Good book, great author and FREE! Can't beat this!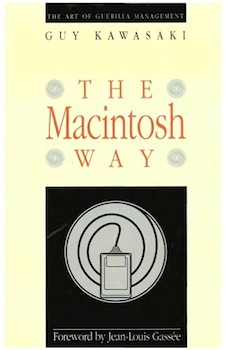 From OSXDaily:
Interested in Apple history? You should download Guy Kawasaki's book "The Macintosh Way", which he just made available for free as a PDF. Guy Kawasaki worked at Apple from 1983 to 1987 and was one of the employees charged with marketing the Macintosh at its introduction in 1984.
The Macintosh Way is a "take-no-prisoners guide to marketing warfare" says Jean Louis Gasse, founder and president of Be, Inc. Must reading for anyone in the high-tech industry, it is valuable, insightful guide to innovation management and marketing for any industry.
The book was written in 1989 (on a Macintosh SE!) after Guy Kawasaki left Apple, and, in his own words, the book aims to explain what the Macintosh division was trying to do. The preface reads:
This book is about doing the right thing and doing things right. It is meant for dreamers, revolutionaries, Macintosh aficionados, and all the people who want to learn about the Macintosh Way. It is aimed at the inner circle, and it is not meant to appeal to the largest possible audience or the lowest common denominator.
It's about 200 pages long and a good read for anyone interested in the Apple's past, marketing, or just the history of business and technology in general.
Download directly from here (PDF) as posted to Guy Kawasaki's Google+ profile
Update: Having trouble opening the book on an iPad? Try one of the following:
Download it to a Mac, open it in Preview, and re-save the file via "Export" as a new PDF. Sync that new version of the book to the iPad for reading in iBooks
Alternatively, you can download a version converted via Adobe Acrobat here from Google Docs, this link comes from Guy Kawasaki's G+ comments
The original version seems to have some protection which is causing some users trouble, re-save it or download the new version and open that PDF into iBooks and it should work.