I love all things upcycling (<– click there for some examples) especially wooden pallets. Now PinkStiches shows us how to make a cool bookshelf out of s spool: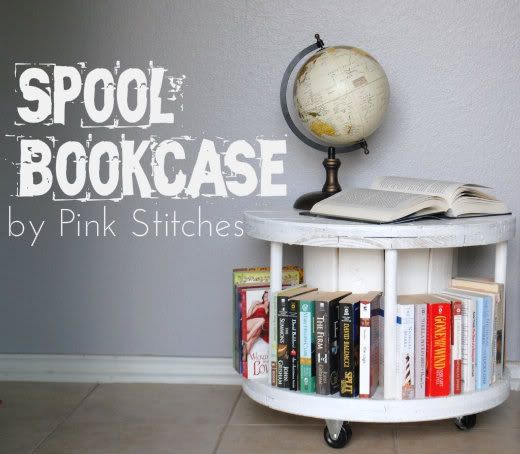 I'm pretty sure most of my spending money goes towards books and fabric. I have more books than I know what to do with and probably ten more books on the way from Barnes & Noble as I'm typing out this post. What do I do? Get rid of some? Nonsense! Make room for more!! This bookcase was inspired by 
this
 lovely pin that I stumbled upon a few months ago. My hubby has a bunch of these fabulous spools at work and I made him bring me one this week so I could make this beauty!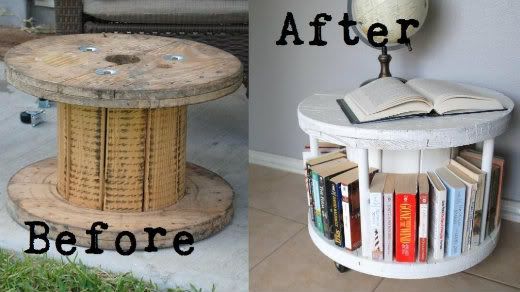 Here is what you'll need to make your own:
A small cable spool
Wooden dowels
3 to 4 casters (swivel wheels)
Molding glue
Saw
Measuring Tape
Paint
Drill and screws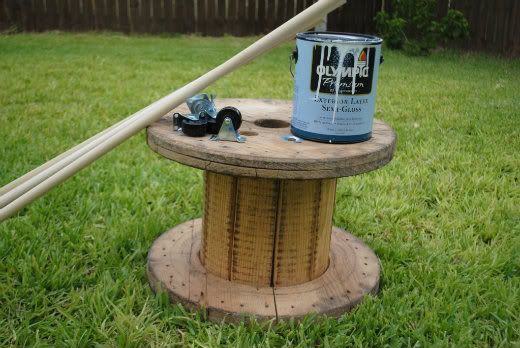 I've been asked where you can find these types of spools. They come in a variety of sizes, this being the smallest one. Mine measured a little over 1 foot. These types of spools or reels are used for cable or electrical wire so you might want to check your local Home Depot or ask your electrician if they have any they're throwing out. My husband works in the oil field and they are everywhere so it's easy for me to get my hands on one.
To get started, you'll need to paint your spool and your dowels. I used a white Behr paint with the primer already mixed into it. I tried covering up one side of the table using four coats and did not like the result. The flaws stood out a lot more (and not in a good way). I painted the other side with only two light coats and loved it. It has a beautiful vintage and worn look.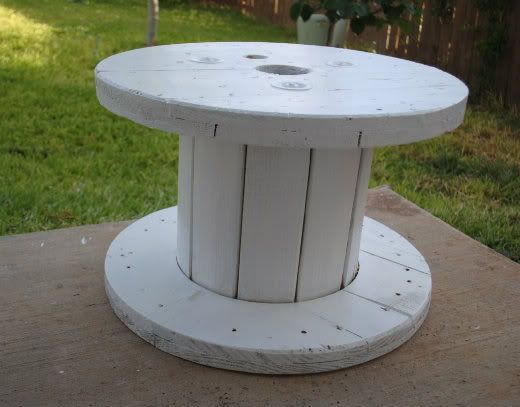 After it dries, turn it upside down and position your caskets where you want them. This picture shows three wheels but I ended up using four so it wouldn't topple over. Just drill them into place.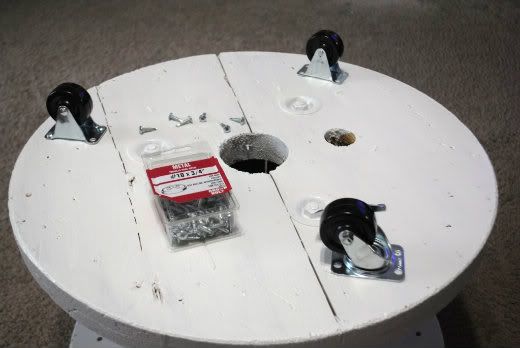 Next, measure the gap between the top and the bottom of the table. This will be the size your wooden dowels should be. Using the saw, cut about 5-6 dowels.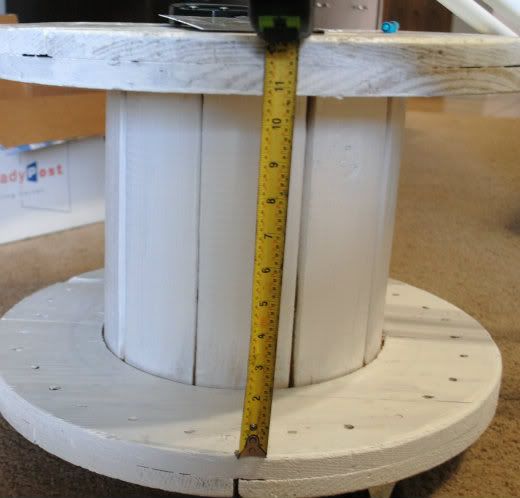 Using molding glue, position and place the dowels around the table about a foot apart and hold in place while they dry. If you cut them down to the perfect size, you don't even need to hold them. They should just stand on their own.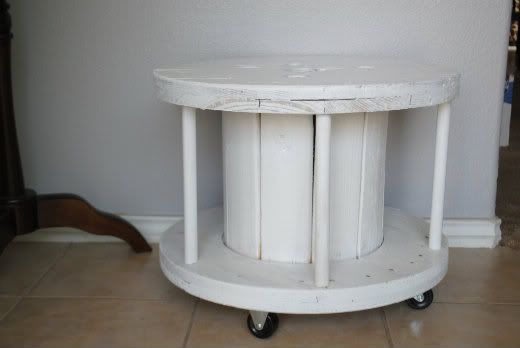 Now fill it with books and admire your new bookcase!! It's not too fancy, but it's cozy and it makes me smile. Enjoy!